Here's the news of the week – and how we see it here at McAlvany Wealth Management:
Coronacosts or Just a Smokescreen?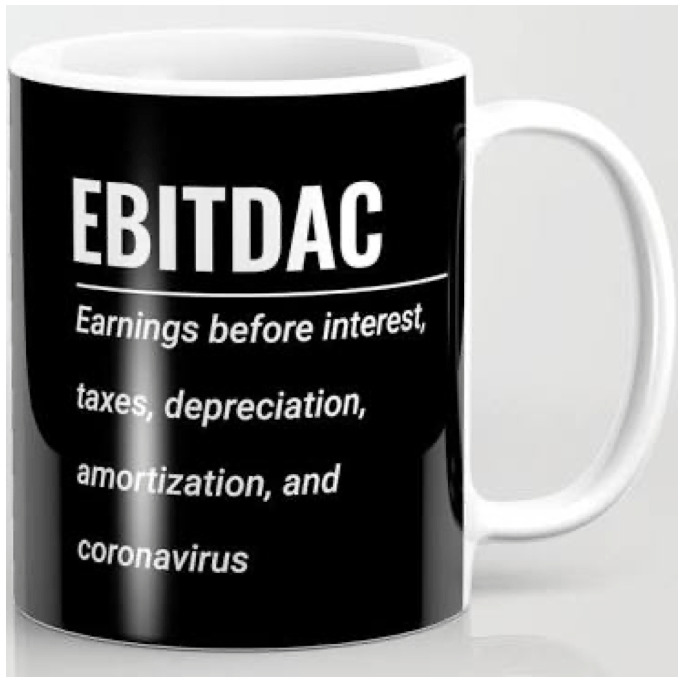 The best part of waking up is …EBITDAC in your cup?[1]
We are in the thick of earnings season, and it is a very busy time as we learn of the numerous ways companies are adjusting their business models to the new realities brought about by COVID-19 and what appears to be a generational recession. However, we wanted to take some time to check in with some market and business perspective.
Approximately just over one-third of the companies in the MAPS strategy have reported by today, and we note two themes that, while not surprising to us, are worth noting. The first, of course, is companies ensuring the health and safety of their workforces as well as that of their customers. Across all industries, we see rising costs related to dealing with social distancing, sanitization, evolving supply chains, as well as a host of other factors. The second theme is that of liquidity management and preservation. We have seen proactive dividend cuts and capital budgets slashed dramatically. Growth capital now takes a backseat to balance sheet strength. Cash, in the case of corporate America, is king because if you don't have balance sheet liquidity at this juncture, the risk is existential.
Of course, a new (non-GAAP, naturally) performance metric has emerged from the COVID debacle – "EBITDAC" – Earnings before interest, taxes, depreciation, amortization, and coronavirus. Of course, this started as an internet meme, but now we hear it referenced on conference calls. Certainly no one could have seen the economic devastation that COVID-19 has wrought on the business community, but we think it is important for companies to be transparent about what exactly they are calling "coronacosts" and whether or not those items are truly one time in nature. We think that even as COVID passes, many of these additional costs are structural, or, at a minimum, not "one-time." In many cases, they are real cash costs.
Broadly, to us it seems surreal that the market could have had such a powerful rally given the recessionary and earnings headwinds we are going to see going forward. It seems a great departure from reality, and we can only point to the tremendous amount of liquidity both fiscal and monetary policy have pumped into the system. Negative real rates have forced income-seeking investors to chase risk assets. Otherwise, there is no fundamental reason you would pay more for a dollar of earnings today than you would pre-COVID. While we evaluate investments very much on a bottom-up, case-by-case basis as a whole, the risk/reward proposition at this juncture is poor.
Best Regards,
David McAlvany
Chief Executive Officer
MWM LLC
[1] https://society6.com/product/ebitdac-with-oxford-comma2810222_mug?sku=s6-13799106p30a27v199&c_kid=s6-13799106p30a27v199&utm_source=GOOGLE&utm_medium=cpc&campaign=%5BNB%5D_2302_US_Smart_Shopping+_Tabletop&adgroup=Tabletop&utm_term=PRODUCT_GROUP&gclid=EAIaIQobChMIiIHJ6bKT6QIVwo5bCh0ApgAfEAQYAiABEgLcX_D_BwE&gclsrc=aw.ds