Here's the news of the week – and how we see it here at McAlvany Wealth Management:
Healthcare Reform in the Balance
Stocks continued their post-FOMC decline over the course of the week, as the indices both here and abroad lost a few percent, depending on the index. There were a few intermittent points where stocks were able to muster a small rally in front of the ongoing House vote to repeal Obamacare, but those rallies seemed to have faded rather quickly, either due to Capitol Hill's complete lack of consensus over the vote, or on the possibility that stocks have formed a top and are now ready to consolidate (to put it mildly). At this point, I am still hesitant to jump to any conclusions, as dip buyers (i.e., speculators) have been impervious to any and all bad news thus far. In any case, defensive areas of the market ruled the trading action, to include utilities, consumer staples, Treasuries, and the precious metals. Semiconductors managed to stay in the black, thanks to what I believe amounts to cheerleading from the folks at Micron Technology Inc. In their most recent earnings release, they raised their 2017 forecast for memory chip (DRAM) demand.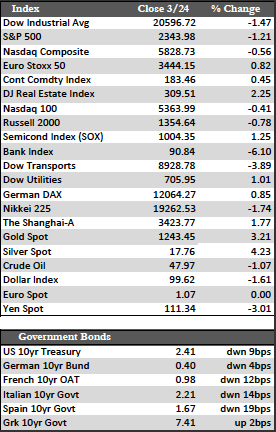 Once again, the economic data didn't really validate the ongoing enthusiasm reflected in stock prices. MBA mortgage applications fell 2.7% in the week ending March 17. US existing home sales lost 3.7%, while new home sales bounced back 6.1% and durable goods orders grew by a slightly lower than expected and rather benign 1.7% in the month of February. Jobless claims ticked up to 258,000 (from a revised 243,000) – the highest level of the year, though continuous claims dropped to 1.90 million (from a revised-higher 2.03 million) in the week ending March 18th. In the corporate world, Sears used the words "substantial doubt" in reference to its future, while FedEx profits trailed estimates on higher costs in ground delivery and Nike sales missed estimates. Both FedEx and Nike were reporting for their 2017 fiscal year end, which occurred earlier this month.
Over the weekend, OPEC will meet to discuss a much-needed production cut to alleviate the still burgeoning supplies of higher cost oil emanating from the US. I won't be holding my breath waiting on OPEC to comply with US demands. Saudi Arabia won't be attending this meeting, and has already reversed one third of their previous cuts. If the remainder of OPEC nations fall short of our expectations, crude, which has been teetering along technical support lines, could see further downside. That could also have a negative impact on stocks next week, but I think traders will be more inclined to focus on whether or not Trump policies (i.e., healthcare reform) can be enacted. A sharp repeal and replacement (with a more competitive system) of Obamacare is, in my opinion, the only thing at the government's disposal to create the cost savings/stimulus for the economy large enough to meaningfully reduce our $579 billion deficit. Without it, as many GOP leaders have already implied, Trump tax cuts and fiscal spending plans will fall under greater scrutiny and/or likely remain on hold.
Best Regards,
David Burgess
VP Investment Management
MWM LLC