Here's the news of the week – and how we see it here at McAlvany Wealth Management:
Stocks Teeter Ahead of the Next Headline
US stocks finished the week without much conviction, perhaps stunned by the flurry of information and events that was less than bullish. When markets opened Monday, we learned that car and truck sales are set to fall below expectations for the first quarter, despite the steep discounts being offered. Deliveries will decline approximately 7.2% at Ford, 4.6% at Chrysler, and increase by a lower-than-expected 1.6% at GM. By midweek, we gathered from the FOMC minutes that the Fed was ready to consider selling assets from its $4.5 trillion balance sheet. Then, at the close of the week, we had the missile strike on Syria, a lackluster nonfarm payroll number of 98,000, and an inconclusive meeting between Donald Trump and China's General Secretary Xi Jinping to discuss trade. Add in the fact that the healthcare bill remains on hold, and one might have at least expected stocks to move back to their 100-day moving average (Dow 20,104.22), yet the indices held in technically bullish territory above their respective 50-day moving averages. All I can say is that traders must either be waiting for another positively spun Trump headline or be avoiding heavy short positions ahead of first-quarter earnings releases that begin with the banks later next week.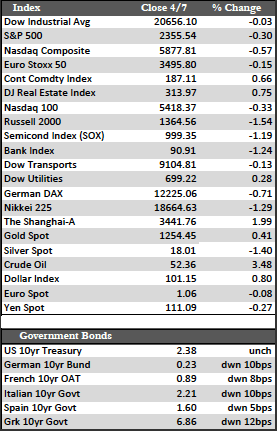 Away from stocks, Treasuries were flat, the dollar was stronger (though still in technical decline), and the metals were higher, with gold gaining 1.32% to silver's 0.57%. Overseas stocks (ex-Shanghai and Greek indices) were marginally weaker and bond markets stronger ahead of Trump's meeting with Xi Jinping, for reasons unknown. The dollar was noticeably stronger this week, which is usually a plus for all overseas markets. At any rate, it was a dull week in terms of market action. Although signs of exhaustion exist (most stock rallies fade), stocks could simply be consolidating before embarking on another move higher. I suppose earnings "beats" could serve as a catalyst in that regard, but as to that I remain doubtful; the higher cost of borrowing in the latest quarter is likely to be more of a drag on earnings than most expect.
Best Regards,
David Burgess
VP Investment Management
MWM LLC