Here's the news of the week – and how we see it here at McAlvany Wealth Management:
Hawkish FOMC Minutes – No Help to Speculators
Friday's close marked the fifth straight week of losses for stocks, as traders and investors digested bearish implications surrounding trade, the Fed, and the economy. The Dow lost nearly 430 points before staging a small intraday rebound Thursday when a Chinese newspaper ran two stories encouraging a full-blown boycott of US imported goods. The rest of the week was given to more subtle developments. On Wednesday, the FOMC minutes revealed an opinion that the recent "dip in inflation" we've seen willbe "transitory." Translated that means there's no need to cut rates because there's a second half recovery coming. That statement alone would have sent stocks rallying in the past, but when combined with an obvious downshift in the economic data for April and May (more on that below), it left traders to conclude that second-quarter corporate earnings could be at risk with no reprieve from the Fed. In any case, the major indices shed between 0.6% and 3.2%, with the transports leading to the downside in the absence of a seasonal (springtime demand) uptick in truckload spot prices.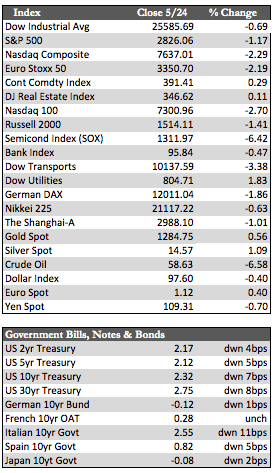 Away from stocks, Treasuries thrived on the uncertainty. Yields fell to new interim lows across the curve. The ten-year yield now sits at 2.32%, which cut the spread between it and the 2-year by about 3bps to approximately 16bps. The dollar spent most of the week in a mindless rally until a trivial high was set at 98.37, at which time some profit taking ensued – perhaps along with a dose of reality, given the US economic data. The Chicago National Activity Index trended lower for the seventh month in a row, New Home Sales shed 6.7% (Apr) from their interim high, Existing Home Sales were lower by 0.4% (the 14thstraight month of YoY declines), and the Markit Composite PMI collapsed from 53.0 to 50.9 in May (a four-year low). Again, all of this is at odds with the "everything is fine" verdict expressed by the Fed and the majority of its members. The next FOMC open market committee meeting on June 19thshould prove to be very interesting.
The metals managed a small gain after presumably the "last" hawkish FOMC minutes were out of the way. Gold added about 0.35% to silver's 0.98%. Oil collapsed along with stocks on Thursday and struggled to recover under the ever-expanding cloud of US stockpiles. Next week, Trump visits Japan to discuss trade, the EU will have its elections, and we'll get quite a bit more US data for April/May. Notwithstanding a trade deal or something similar, that to me would bring only temporary benefits. Stocks may remain under pressure leading into the next Fed meeting, at which time we'll get an indication of things to come if the Fed changes its tune about things being "transitory."
Best Regards,
David Burgess
VP Investment Management
MWM LLC