Here's the news of the week – and how we see it here at McAlvany Wealth Management:
Earnings May Not Be Enough
Last week, stocks set some new technical highs on the strength of a record number of corporate share buybacks. Debt is the source of funds for these buybacks rather than cash from operations. Companies borrowed a record $747 billion in the first quarter of this year. They were not only eager to scoop up shares after December's 15% swoon in stock prices, but also keen to obfuscate as much as possible a 2% to 4% decline in S&P 500 earnings for the same quarter.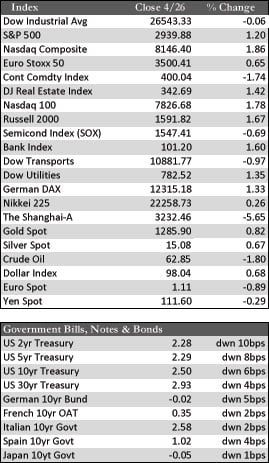 In spite of all that, stock prices began to stumble a little this week. Earnings, though well hyped, still lack the organic growth component that gives investors confidence to push stocks to even more extreme valuations. Consequently, stock bulls had trouble keeping the momentum going. The indices finished in mixed fashion, with tech fairing a bit better than the industrials (see the scores). Keep in mind that overseas growth has begun to decelerate again, contrary to what the ECB had to say in its last meeting. This, too, should begin to weigh on stock prices – not only here at home, but globally. Incidentally, 40% of S&P 500 earnings come from operations overseas.
Away from stocks, Treasuries began to rally again. I believe this is another sign of "risk off," as flows from stock ETFs begin to move into fixed income. The dollar spiked higher, not necessarily on its own merits, but against a decline in both the euro and the British pound. Renewed weakness in that region has brought about more chatter regarding a dovish ECB. This, along with a lower-than-expected GDP price index of 0.9%, helped the metals regain some technical footing that may give way to higher prices down the road. A retesting of $1,350 for gold still seems a reasonable goal over the near term. Oil was rangebound near $65 before it dropped on Trump's promise of lower prices.
Next week, we'll have both Fed and BoE policy meetings, as well as some economic data that will begin to reveal whether a second half recovery is in order or not. Intel, IBM, and Amazon executives were doubtful in their latest earnings calls.
Best Regards,
David Burgess
VP Investment Management
MWM LLC